Looking for a Kicksta review to decide whether this option is safe and reliable? Kicksta is an Instagram growth service that promises to help you get
Looking for a Kicksta review to decide whether this option is safe and reliable? Kicksta is an Instagram growth service that promises to help you get more followers through organic growth. Here, we're breaking down all the features of this platform, how it works, and what differentiates Kicksta from comparable options. Take a look at our Kicksta review to decide if the Instagram growth service is a fit for your brand.
Kicksta Review: Grow Your Instagram Followers Organically
If you're looking for the best Instagram service to get more followers, Kicksta should certainly be top of the list. Here's how this option works.
What is Kicksta?
Kicksta is an Instagram growth service that helps brands, influencers, and agencies organically grow their Instagram following. Instead of selling you new followers, Kicksta uses your Instagram account to interact with users in your target audience and bring new followers your way.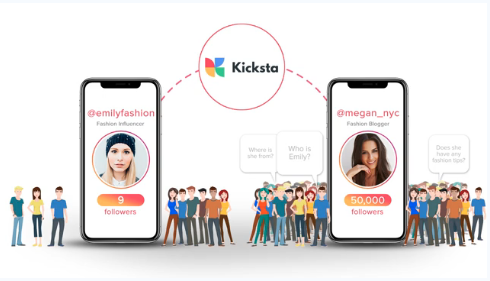 When you register with Kicksta, you provide the platform with information about the type of followers you'd like to attract. You'll input the handles of several target Instagram accounts — maybe competitors, influencers in your niche, or complementary brands — that have followers you'd like to attract.
Next, Kicksta will use your Instagram account to like photos from accounts in your defined demographic. When those users come back to check out your account, if they like what they see, they'll follow you. And as long as you continue posting quality content, they'll have no reason not to stick around.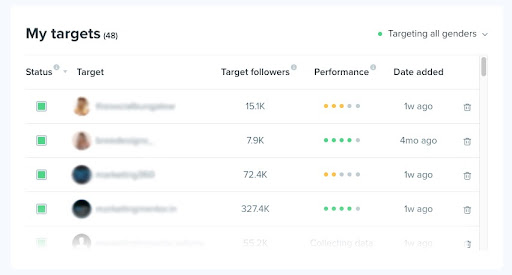 Kicksta likes approximately 10,000 photos each month. It's easy to keep an eye on your growth and share reports with your team from the comprehensive dashboard included with each user account. Brands who stay with Kicksta the longest see the most growth over time. The way Kicksta works tends to bring in waves of engagement, with your account continuing to steadily grow.
This Instagram growth service is highly affordable, with plans costing $49, $99, or $218 per month. PR companies, agencies, and social media managers can also receive a custom quote. Kicksta has a 14-day money-back guarantee for your first two weeks of service. And Kicksta users get plenty of customer support via email, live chat, and video onboarding.

Bonus Features
In addition to the main attraction — organic growth — Kicksta has a couple of other handy features, too.
Hashtag Generator
Hashtags are a helpful and important way to grow your IG account. If you aren't sure what tags to use, Kicksta's free generator can help you figure it out. Enter a keyword (such as "fitness") and see a list of related hashtags. Filter your results by most popular, random, or best match. Then you copy all of the hashtags with one click and paste them into your Instagram scheduling tool or wherever else you'd like.
Engagement Calculator
Kicksta also offers a free engagement calculator to help you get an idea of where your (or a competitor's) engagement rate is. Type an Instagram username into the calculator and see the average engagement rate for that account based on likes and comments.
Why It's Safer Than Top Competitors
What sets Kicksta apart from other growth services? Here are a few key differences between Kicksta and its competitors, and why Kicksta is safer.
PathSocial
PathSocial uses foreign AI. Kicksta is based out of San Francisco and all of the data is stored on company servers in the U.S.
PathSocial is also a newer platform that hasn't been in the industry for as long. By contrast, Kicksta has been around since 2015, giving the Kicksta team years of experience to back up the services provided.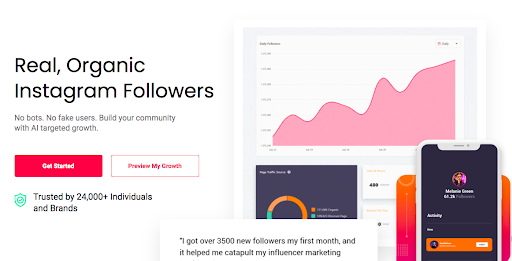 Buzzoid
Buzzoid also uses foreign AI. What's more, you run the risk of buying Instagram followers, likes, and views. Kicksta does not sell Instagram followers. Kicksta focuses on organic growth, which is what makes this option so effective.
Upleap
Although Upleap calls itself an Instagram growth service, this platform does not focus on organic growth. With Upleap, you're purchasing fake followers to fill up your account — and these followers won't do anything for your business long term. Kicksta uses highly sophisticated targeting methods to make sure every user who comes across your account is interested in what you're selling.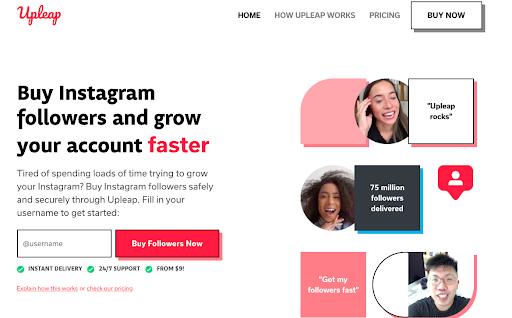 The Risk Of Purchasing Followers
Buying followers for your Instagram account might seem like an attractive idea. But at the end of the day, this is the worst thing you could do. Purchasing followers in bulk has a lot of risks. Most of the time, any "growth service" that sells you followers is selling you fake accounts. Accounts that are bots aren't going to be interested and engaged with your content and your products like real people will.
That's why it's so important to select an Instagram growth platform that focuses on organic growth, like Kicksta. Organic growth tactics seek to attract Instagram users who are real people in your target audience. This is much healthier for your account in the long run because these people will actually help your company grow.
If a growth service guarantees a certain number of followers, don't work with that platform. They're probably going to sell you fake accounts. In order to truly grow your Instagram following and engagement, you need real followers — and those followers are going to be attained through organic growth. Kicksta recognizes this reality and uses only organic growth tactics for its customers.
Grow Your Account With Kicksta
In this Kicksta review, we give the company a ⅘ star rating. This organic Instagram growth service has a proven track record of helping Instagram accounts become more popular with real followers. What's more, Kicksta makes your job easy — sit back and enjoy the customer support and reporting features while Kicksta's automation features do the work for you. Kicksta has helped over 10,000 brands and influencers gain Instagram followers that are genuinely interested in them. After reading our Kicksta review, you can decide if the growth service can help you, too.