Stable revenue is one of the many reasons people invest in real estate, despite how costly it might be to finance a rental property. However, many lan
Stable revenue is one of the many reasons people invest in real estate, despite how costly it might be to finance a rental property. However, many landlords tend to overlook or underestimate how much funds go into maintaining a unit. Sometimes maintenance costs, amongst other bills, can supersede your expected revenue and eat into your profit margin.
But there's no need to fret. Savvy investors are taking advantage of their time by adopting modern tools to help them reclaim their profits.
Read till the end of this article to discover how using technology can help you improve your rental property maintenance.
Virtual Reality Tours
Virtual reality tours are powerful tools that simultaneously attract high-paying tenants and improve rental property maintenance. Incorporating hyper-realistic videos in your online marketing gives prospective tenants a better picture of your rental property. They can see how the windows let in the perfect amount of light and admire the unique architectural features of the house. The added visuals also help the tenants build an emotional connection to the place.
As far as maintenance goes, virtual reality tours reduce the cleaning you have to do between open houses. Fewer people entering the home also reduces the wear and tear it sustains. They're an excellent alternative if the rental property is within a location still under restriction. Rather than risk buyers moving from one zone to another, you could send them a viewing link. After further streamlining, serious buyers can then bear the risk of visiting the property physically.
Security Cameras
Intruders can pose a significant risk to your investment, which is why installing a security camera is an excellent idea. Burglars and other ill-intentioned perpetrators will think twice before stepping on your property if they know their movements are being monitored. Moreso, it can also serve as a way to check the behavior of difficult tenants. As a landlord, you might encounter difficult tenants that intentionally break the rules of your agreement. Installing surveillance equipment could be a way to monitor such renters, and you could also use the recording in your defense if you decide to evict them or take other legal actions.
Alarms and Detectors
Smart home technology is an excellent investment to safeguard your property. Many high-tech, wireless devices are also inexpensive, so you don't have to worry about breaking the bank. Fire alarms and carbon monoxide detectors can protect your property from potential damage from fires or gas leaks. Moisture detectors can also do the same and prevent water damage that could potentially cost you thousands of dollars during the repair or replacement of furniture.
Don't forget that as a landlord, you have to safeguard the lives and properties of your tenants so you might be liable for damages should your units encounter some unfortunate mishaps. A tenant can sue you for failing to replace the batteries in a fire alarm or for damages due to a water leak. Preserve your rental property by installing smart alarms and detectors. Some high-end devices can also send you a notification when you need to replace some of their parts, so you're never caught off guard.
Energy-efficient Appliances
Another way you can use technology to improve property maintenance is by investing in energy-efficient appliances. Many landlords are dissuaded when they hear energy efficiency because they often think it is synonymous with money. On the contrary, there are inexpensive options in the market, and on average, these appliances have a longer lifespan than their traditional counterparts. It would help if you kept in mind that the money you save in reduced electric bills will offset the cost of purchase and installation over time. That's why more landlords are making the switch to energy-efficient appliances.
If you're more financially buoyant, upgrade to a high-quality refrigerator, dishwasher, or clothes dryers. Also, investing in LED light bulbs is one of the easiest and cheapest ways to adopt a more eco-friendly home.
Property Management Software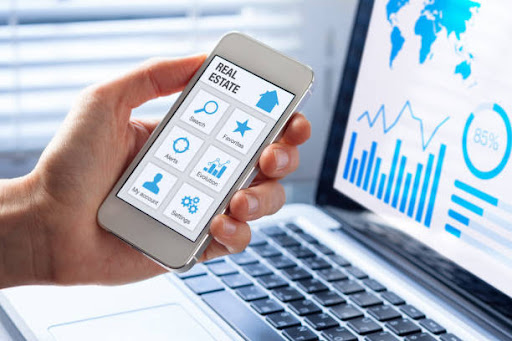 Purchasing software to assist you with your workload as a landlord is another great application of property management technology. Landlords have many responsibilities, so incorporating software that can help them streamline these tasks has many benefits, including improving rental maintenance. Although these tools vary according to your provider and package, many of them have the same features.
Standard features include tracking work orders, better accounting systems that help with budgeting, and easier tenant tracking. When you have access to these features in one convenient location, you'll find that planning and maintaining your property is a breeze.
Landlord-Tenant Platforms
Of course, you can't talk about maintaining rental properties without talking about tenants. While you can go the extra mile by installing smart devices and purchasing energy-efficient appliances, you still require your tenants. Don't forget that they are the primary residents, especially if you live far from your investments. They can promptly call your attention when something is amiss so you can fix or replace it if necessary.
It i's only natural that protecting your investment would include creating a safe platform for your tenants to lay their complaints. By opening up a communication channel, you send the message that you care about their well-being, and they will act in kind by minimizing damage where possible. However, landlord-tenant platforms are only effective if you check them regularly and respond promptly. Don't make provisions for a suggestion box you'll sparsely check. Instead, take advantage of tenant portals with property management software, or make yourself reachable via phone, texts, or emails.
Conclusion
Proper maintenance is vital to landlords that plan on making the most of their investment. You can significantly improve maintenance by safeguarding your units, reducing wear and tear, installing high-tech alarm systems, and communicating with your tenants.
Remember, you don't have to manage rental property maintenance on your own. You can consult a professional property manager dedicated to helping you maximize your investment and maintain your property.