There was a time when we could go to a salon regularly and get our beards shaped and styled as per our mood. But since the outbreak of COVID, it a
There was a time when we could go to a salon regularly and get our beards shaped and styled as per our mood.

But since the outbreak of COVID, it all sounds like a distant dream. But that doesn't mean you cannot experiment with your looks.

With the best trimmer in your hand, you can style your beard, just like you want!


Here is a list of such hair trimmers for men that you can consider buying:
Misfit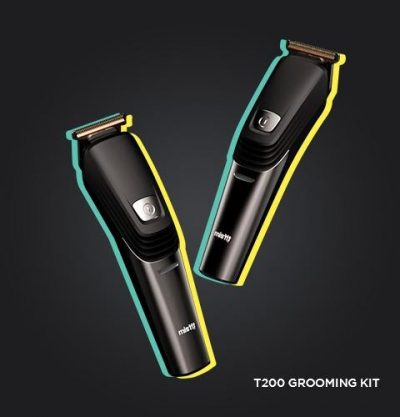 Get ready to slay every look and pamper yourself with the best trimmer. It is an ultimate grooming kit for men which has everything – from hair trimmer to hair clipper to a shaving kit for men! It is lightweight and you can carry it easily anywhere and everywhere. It comes with titanium blades that go hard on the hair but are smooth on the skin.

It doesn't matter what look you want – whether you want to maintain a stubble or need to take care of a full luscious beard, you can do it all with utmost ease and perfection, as it comes equipped with 6x beard trimmer heads for men, 6x combs, 5 length settings, and a trimming range of 0.5 – 12 mm.

You can opt for a cordless experience or choose to use a cord. With a long lasting 120 minute lithium battery, you can be sure of having a dependable partner with you at all times. What's more, you don't even have to wait for hours to charge your trimmer. Just plug it in for 60 mins and you are good to go! Easy peasy, right? 
Philips QP2525
Trim, Shave or Style, this hair trimmer for men will let you do it all! It is packed with a revolutionary new technology that is designed for men who like to try on new styles.
With dual-sided blades, you can go in either direction and can easily  style precise edges on your face. It stays comfortable in sensitive areas.
It even has a protective plate on top of the cutter, which prevents the blade from touching your skin. The dual protection system keeps your skin protected, no matter trim or shave. It follows the contours of your face, allowing you to comfortably style all areas. So go against the grain or create sharp edges by moving the blade in any direction – this trimmer for men makes it all happen with utmost ease!
You can also shave with or without foam – as per your preference.

The 3 trimming combs (1mm for a 5 o'clock, 3mm for a tight trim and 5mm for a long stubble) further help you achieve perfection!
Its rechargeable battery delivers up to 45 minutes of performance after an 8 hour charge, making it suitable for when you live on tight schedules.

Once you are done styling, you can clean it easily. Just rinse it under the tap.
Syska HT300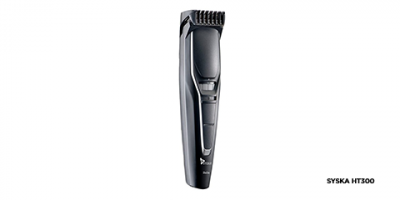 This hair trimmer is a good choice for men!
It comes with skin friendly stainless steel blades that enable smooth trimming. The blades have a unique self-sharpening technology which helps them stay sharp and effective. They brush against each other and sharpen themselves for a sharp trim.

You don't have to go through the hassle of finding a power socket everytime you want to use this trimmer. As it comes with a chargeable battery which takes nearly 8H to charge and gives up to 35 min of continuous use.The LED indicator lets you know when it is charging by a red color light and when it is on.

It also comes packed with an in-built stubble comb and a removable and washable head. This helps you clean the brush easily and remove all the hair or dust by just simply placing it under a tap!
Havells BT6153C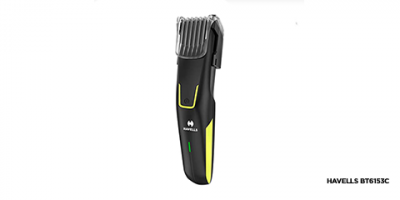 Now get any style you want with this versatile beard trimmer for men!
Ergonomically designed to perfectly fit into your hand and give you a solid grip with comfort, this trimmer allows you to seamlessly trim even hard-to-reach areas. As this trimmer comes with an adjustable setting comb, you can use it to achieve all types of beard lengths. You can change the settings easily by using the slide button.

The blades are made up of stainless steel which ensures a sharp and thorough cut throughout. The U-shaped blades adjust themselves to the facial contour and glide smoothly against the skin, without causing it any harm.
You can easily wash the detachable head along with the comb under running water. Just rotate the head in the clockwise direction and pull it out!
It even comes with a LED indicator which keeps you updated about the battery. It turns green when in use and goes red when running low on battery. This keeps you updated about the status of the battery. However, you can choose to either use the cord or go cordless, as this trimmer supports both types of usage. This means that you are covered for a hassle-free last moment trimming. So no more turning up all dis-sheveled to any impromptu party!
Wahl 08841-724 Beret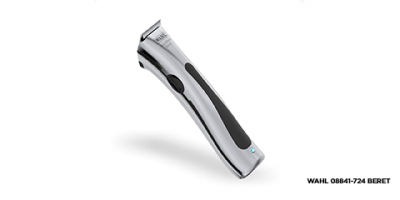 Achieve salon-like perfection at home with one of the best hair trimmers for men! The lightweight body and the slim design helps to hold it easily.
It comes packed with a powerful DC motor that runs efficiently at a speed of 6000 rpm. It features a cutting length of 0.4mm which allows you to maintain a stubble, without much effort. The 4 attachment combs serve the rest of the trimming requirements. The 3mm and 5mm attachment combs help you in creating a short beard style while the 10mm and 13 mm attachment combs can be used to maintain a long beard.

It comes with a charging stand that allows you to charge it once and go cordless. The stand doesn't take much space and helps in keeping your things organised. You need to charge it for nearly 60 mins, which gives you a usage time of up to 75 mins.

It should definitely be a part of every shaving kit for men. Especially, if you want to achieve perfection, everytime you shave! 
Now that you have gone through the list, we hope that you find the right trimmer for yourself!