Introduction Summers are here and so are the summer vacations. This is that time of the year when all the family members come under one roof to celebr
Introduction
Summers are here and so are the summer vacations. This is that time of the year when all the family members come under one roof to celebrate togetherness. Some like to spend time living inside the house whereas some plan a trip. Mostly the concept of going on a trip. There are lots of holiday destinations around the world. Sometimes it becomes very difficult to decide what to choose. Well! As you know this world is full of wonderful locations and views which seem to be very mesmerizing. In this article, I will be telling you about one of the best holiday destinations which is also a dream place for many people, and the best places to visit in Hawaii.
Let me introduce you to the one largest island "Hawaii". Hawaii Island is located in the Hawaii State of the United States and covers an area of about 4,028sq miles. With a world ranking of third, this Island is said to be built from five shield volcanoes and has many beautiful places to visit. Let's have a look at places which you must visit when in Hawaii.
USS Arizona Memorial at Pearl Harbor


It is said that the people of Hawaii and across the world are very fond of the USS Arizona Memorial at Pearl Harbor which is located in Honolulu. They visit this place just to see the beginning of world war 2 for America. This monument was built in the memory of the soldiers who lost their lives in the Pearl Harbor attack done by Japan in the year 1941 (December 7). It has been said that visitors around the world come here to pay tribute and respect to the soldiers. However, if you have ever been to this place, you know that bags are extremely prohibited inside the campus due to security reasons. Being Operated by the National park service, the USS Arizona Memorial is a part of the pearl harbor National memorial and charges nothing to the visitors. If you want to visit this place then you have to complete your registration process on a U.S Navy boat and book your tickets. As you head toward the memorial, you will get a chance to watch a 23-minute documentary film that will show you a glimpse of the Pearl Harbor attack.
North Shore of Oahu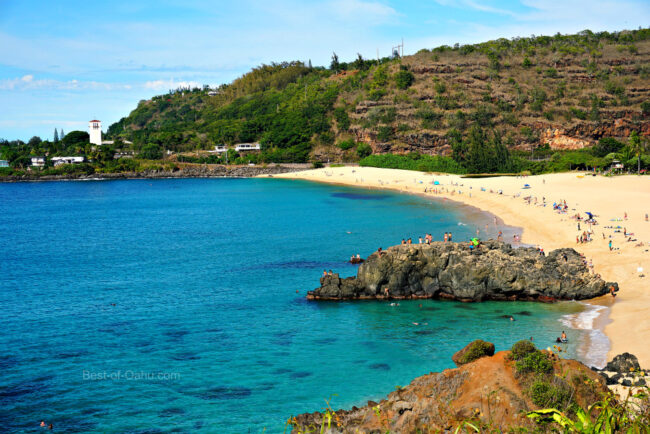 Located between Ka'ena Point on the west and eastward to Kahuku Point, this place has a lot to offer to its visitors. With 11 beaches North Shore Oahu is known for surfing and snorkeling. Thousands and thousands of visitors come every year to chill along the side of the beaches- like Sunset Beach, Banzai Pipeline and Waimea Beach, and more. Not only this, due to its weather and natural scenery this site is known for filming. A lot of films and TV shows like- Bustin down the door, North shore, Blue crush, Big bounce, Forgetting Sarah Marshall, etc have been filmed here. People visiting this place are surrounded by various activities which are full of life. They can try activities like- hiking, scuba diving, shark cage diving, food trucks, foil board, dolphin tours, etc. Being a perfect holiday destination for people of all age groups.
Waikiki Beach, Oahu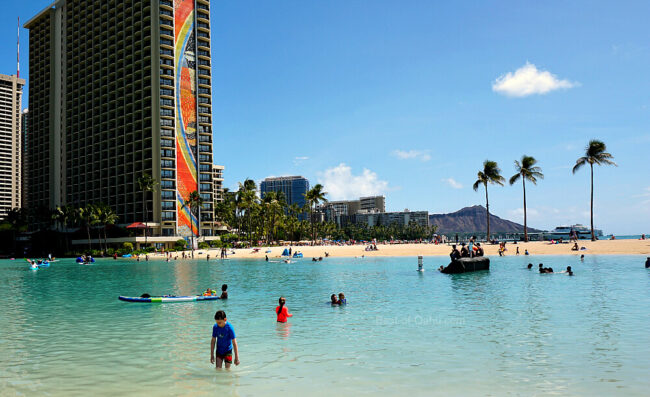 A very famous place for all the beach lovers out there, Waikiki beach is known for its white sand and turquoise blue water. No matter what age group you belong to, this place has something for everyone. One can do various activities like- swimming, surfing, snorkeling, etc, and can visit places like- Hilton Hawaiian Village which is on the Westside of the area to Kapi'olani Park which is located in the east of the area. Also, the type of climate it possesses, and the restaurants and resorts it has made it a popular choice for many visitors across the world. Roaming around the beach, you will get to know that almost all the beaches in the area are laced with showers along with public bathrooms for the sake of visitors.
Na Pali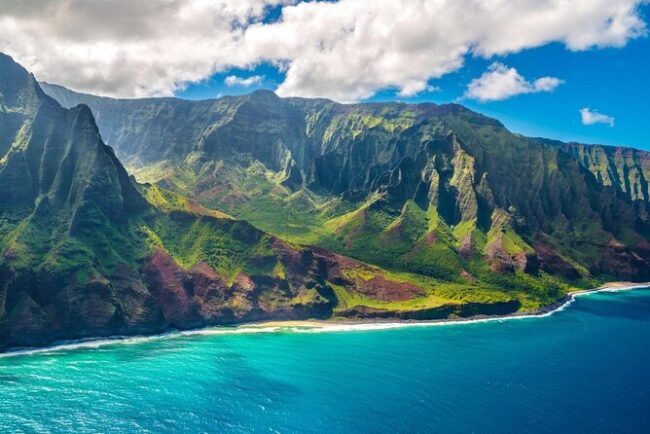 Another very special place to go in Hawaii is the Napali coast. Surrounded by a deep, narrow valley ending at the sea this site has been one of the most visited places in Hawaii. On visiting this place one cannot stop themselves from hiking. Also, the Hanakapiai falls situated on the Napali coast is a site of attraction for many. This 300 feet high fall will blow your mind and is worth your time. So! Next time when you are in Hawaii, do not forget to visit this place. Not only this, but the state park in Na Pali is also a must to visit place in Na Pali but do not forget that to enter this state park you need to have a valid permit. If you are a camping lover, then I suggest you visit Napali from the month of May to September. Camping in Napali will cost you around $20 per night so, I would recommend you to go through the weather reports before planning anything.
Haleakala National park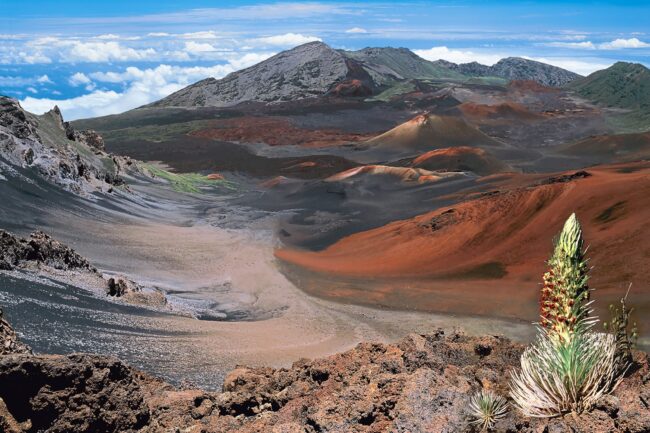 Located in Maui, this magical island is known for activities like- hiking, camping, etc, and is known for its mesmerizing sunrise and sunset views. Also known as the "House of the Sun" for its beautiful views, this island is a must-see when in Hawaii. For all the visitors out there, I suggest they carry their winter clothes as the weather there is unpredictable along with some food. There is a pre-registration process that one goes through to watch the jaw-dropping scenery. I suggest doing proper research and collecting adequate information about the area's unique cultural as well as natural history before planning a hiking or camping trip to Haleakala national park. Although you can opt for both day and night camping trips, Haleakala is famous for its day camping.
Road to Hana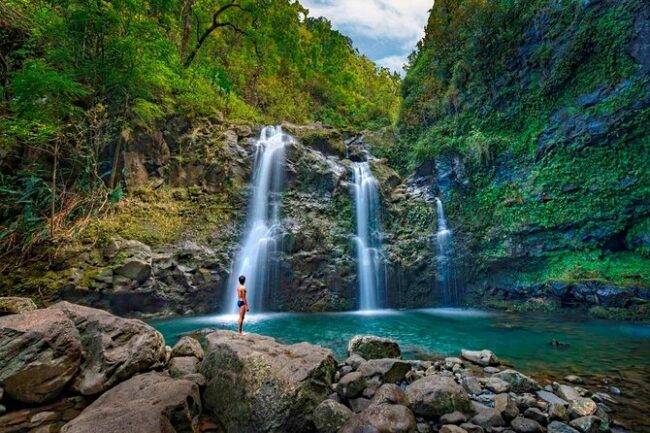 Famous for its beautiful landscape, Hana highway is located in the east of Maui. If you are planning to visit Hawaii then this place will surely be something which you cannot miss at any cost. Taking a road trip to Hapuna highway is the most popular activity of many visitors out there as it gives lifetime memories to cherish. You can either hire a car or a tour guide for the trip to explore the amazing views throughout the journey. But! Throughout the trip make sure to follow all the guidelines properly which states that- you can not block the road for your photo purpose as it can create problems for others, do not drive recklessly, and follow all the road safety rules, etc. En route to Hana Highway, you can feed yourself and gas up your car at the very famous Paia Town. Not only this, but you can also stop at Twin Falls for mild hiking, Nahiku Marketplace to have some delicious treats, and Wai'anapanapa State Park which is known for its black sand beach and beautiful coastline.
Molokai's Kalaupapa National Historical Park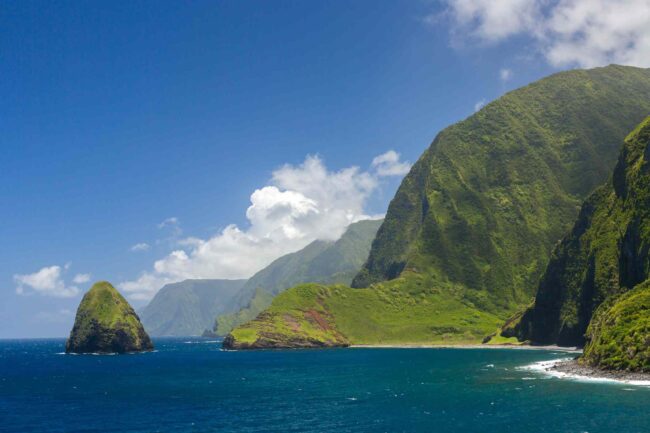 Home to all the homeless people suffering from Leprosy, the late Saint Damien, and all helpers, Kalaupapa National Park was established in the year 1980. Situated in a remote area, this historical park is surrounded by Hawaiian beauty and is most visited by the people. It acts as a symbol of spirituality and vision for the one suffering from Leprosy and has been the home to more than 8,000 people. To visit Molokai's Kalaupapa National Historical Park one will have to take a permit from any one agency given below- Damien Tours, or Kalaupapa Rare Adventure Tours. In case you are planning to trek then I suggest you collect all the useful information about the climate and do not move ahead keeping your health at stake as it may be very risky.
Trip to Lana, Maui
This amazingly beautiful island is owned by the Hawaiian archipelago. With the tag of the leading producer of pineapple in history this Island is also known as the "Pineapple Isle". Visitors can take a flight from Honolulu, Kahului airport, and Ferry from Maui Lahaina Harbor to reach Lana. When you are on a trip to Lana, you don't have many options to choose from. There are almost 2 to 3 resorts, private vacation rentals, and camping options. Lana has a variety of amazing sites to offer you, so we strongly suggest you rent a vehicle for an outing. You can visit one of the most amazing places, Keahiakawelo which are located at the end of Polihua Road. Going to Lana, visitors can take advantage of the beautiful landscape in rock towers, spires, boulders, and gorgeous the Pacific Ocean, etc. You can also do various activities like- scuba diving, Hulopoe Bay, golf, and much more.
Final Verdict
As I said earlier, there are many holiday destinations worldwide, but when planning to visit Hawaii, you must read this article. Reading this article will give you all the information related to places that you need to see when you are in Hawaii. There are lots of breathtakingly beautiful places in Hawaii which can mesmerize you. So! What are you waiting for? Just go and visit now.
How To Search Visitor hawaii Place on google:
"places to visit in hawaii"
"best place to visit in hawaii"
"visit hawaii"
"best islands to visit in hawaii"
"hawaii places to visit"
"best place to go in hawaii"
"best place in hawaii to visit"
"hawaii tourist attractions"
"best part of hawaii to visit"
"places to go in hawaii"
"best place to vacation in hawaii"
"best places to visit in hawaii for couples"
Stay Connect with our Travel Blog & Write for us travel