The fashion industry around the world is increasingly growing on with rapid pace, and is on a real high in contrast to any other commercial industry.
The fashion industry around the world is increasingly growing on with rapid pace, and is on a real high in contrast to any other commercial industry. Because the consumer base is flawlessly growing on and the market is getting stuffed by new outwears and apparels every day. But in the past few years, the fashion industry has saw an intensive growth in compliance with the advent of smart mobile applications, which are innovatively integrated with the fashion industry giving them an elusive edge to dominate more prominently. So these smart mobile apps are increasingly getting associated with the fashioning world and are influencing the market with their unique functioning and cost-effective management solutions. Hence below are some of the key points defined, about how mobile applications are uniquely making their impact in the fashioning world and why they are becoming an essential aspect for many of the big fashioning brands around the world.
Mobile Apps Becoming Mandatory For Fashion Stores:
The market today is becoming highly competitive with the advent of new technologies, and so is the case with the modern fashioning customs. As the named and famed fashioning brands around the world are making themselves getting accompanied with these innovative techs to get competitive advantage in the market, and smart mobile apps are surely one of them.
As these elusive mobile applications have now a days made themselves mandatory to get associated with the intrinsic fashioning market. Because every store owner and proprietor wants to connect with the wider world and these smart mobile apps are exactly programmed and made in the same way that gives those fashioning stores wide outreach to the online world.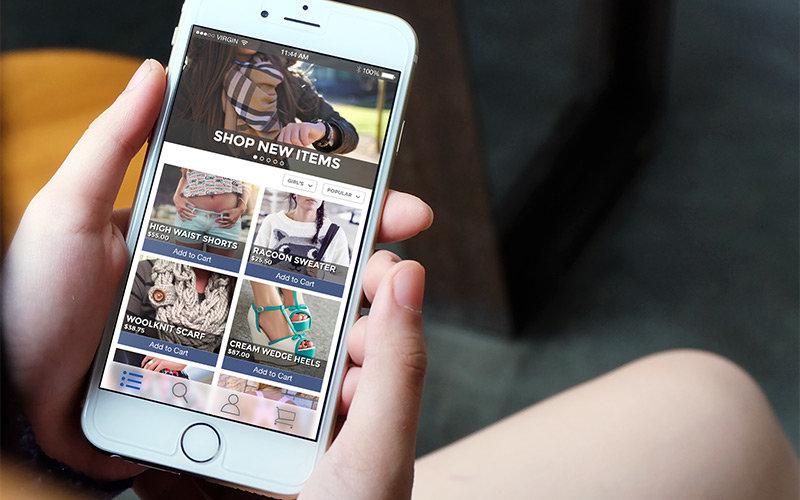 Interactive Fashion Trends and News:
With the use of smart mobile applications, consumers always stays interacted with the newer fashioning trends and market news, which as a result gives fashion industry an edge to gain customer's knowledge about what they are opting for in the market and what next they should offer to the customers to have that competitive advantage over others in the market.
As an overall, mobile apps have now become a medium for those online stores to get themselves interacted with the consumers wants keeping in view with the newer fashioning trends and traits.
Virtual Tryout:
This new virtual technology is certainly hitting the fashioning world with its unique integration with the mobile applications. As there are multiple apps available in the market now which offers virtual tryouts for the customers just with the ease of their smart phones and fashioning stores are adequately very happy to get incorporated on those apps to display their wide collection of apparels their and to give their store an innovativity with it.
As being competitively ahead in the market is all what about being dominant in the modern world, and these new elusive technologies like virtual tryouts is certainly one of those traits which gives those online stores a flare of ingenious creativity to stay ahead and grow their customers base among the others.
Managing Retail Stores:
The biggest advantage fashioning stores have got with the advent of smart mobile apps, is the easy management of their retail stores with it. As these applications provide them an effective and easy way to manage their inventory and other stuff while moving on the go, shortening their hassles to build up a physical storefront and manage manually with it. These innovative smartphone apps makes really easy for them to get their inventory store gets managed calmly and smoothly.
Seamless Remote Shopping Experience:
A mobile application gives both consumers and retailers seamless advantage to explore shopping experience while staying remote and moving on the go. That is one of the most common yet most admirable aspect of having mobile applications integrated with the fashioning world. As we have clear examples of Amazon, eBay, Walmart and other E-Commerce giants in front of us selling almost anything including Men Leather Jackets. Because they have literally grown up their business offering their services at the ease of your fingertips that is why customers have been attracted hugely towards these platforms. And so is the case with the other online fashioning brands too who also loves to get their store published at the fingertips of potential customers via smart mobile apps.