Italy, a boot-shaped country, is situated in the Southern part of Europe. Being one of the most chosen travel destinations in the world, this country
Italy, a boot-shaped country, is situated in the Southern part of Europe. Being one of the most chosen travel destinations in the world, this country h
s lots of things to offer its visitors. Some of the popular reasons behind people's craziness towards this beautiful place are- beautiful and inspiring art, charming towns, one of the world's best cuisines, hard-working and passionate people, iconic sites like- the tower of Pisa, the Colosseum, Trevi Fountain, and much more. 
Italy is full of shopping places from where you can buy high-end fashion or can go to watch the Renaissance masterpiece. If you are a nature lover then Italy will give you lots of reasons to get a little closer to nature.  Not only this there is a variety of places to discover that offer the best hiking routes and the best landscape. Some of them are- Cinque Terre, Sardinia, Dolomites, etc. 
There are a lot of things available in Italy which will help you to spend your time in Italy and make your day a memorable one. You can spend time knowing about the Romans and their lives, you can also look at the destruction created by Mount Vesuvius at Pompeii, and you can chill across the lakes. Italy is beyond your imagination and has a lot of things to offer that you cannot discover in one day. If you are planning to visit this place then this article might be useful for you. Here I will be listing some of the top destinations to visit when in Italy. So! Stay tuned till last.
Naples: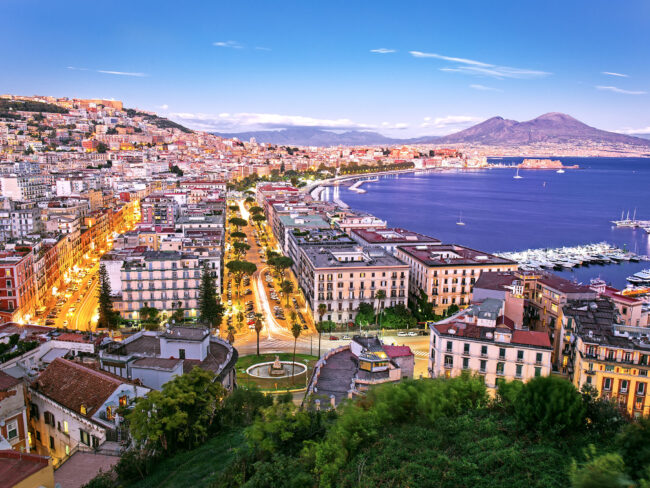 this busy metropolitan city is the capital of the Campania region in Southern Italy. Naples is the best place to visit and has a lot of things to explore. Naples is located near the Bay of Naples and Pompeii and has the world's largest city center with Baroque churches, historical monuments, Roman ruins, and never-ending material or knowledge for all the history and art lovers around the world. The city also has something which reminds you of the past. You can take a look at the beautiful landscape, picturesque villas and castles having volcanic craters, and Roman baths resembling ancient times. If you want to have a close look at the past you can visit the places like- the grand Piazza del Plebiscito, the royal palace located in Capodimonte Museum, National Archaeological Museum, etc. Not only this, many of you don't know that Naples is the birthplace of many Italian cuisines like- noodles, pasta, seafood, mozzarella cheese, baba pastries, zeppole pastries, etc which you love to eat. 
Milan: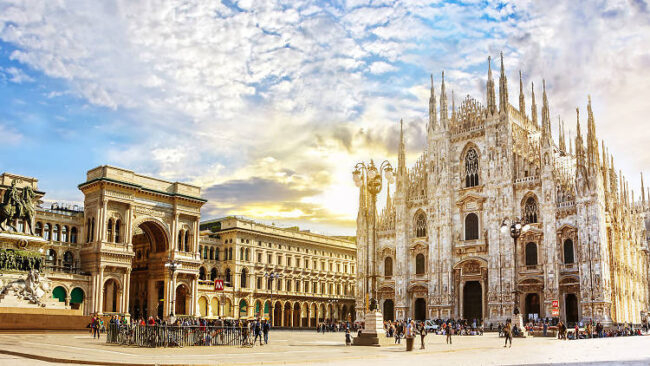 Milan was one of the most affected places by World War 2 but now has regained its popularity. After reconstruction Milan is now counted among one of the wealthiest cities in Europe. It's a hub of fashion and you can find many top designer shops here. Not only this it is equally famous for treasuring the art of Leonardo Da Vinci- The Last Supper, the Scala Opera House, the Castello Sforzesco, etc. Milan is a famous name in the field of shopping, fashion, developed business, and glamorous city and is located in the Northwest region of Lombardy near the Alps and scenic lake district. Comparing the past to today Milan is something different and has less Italian touch. 
Pisa: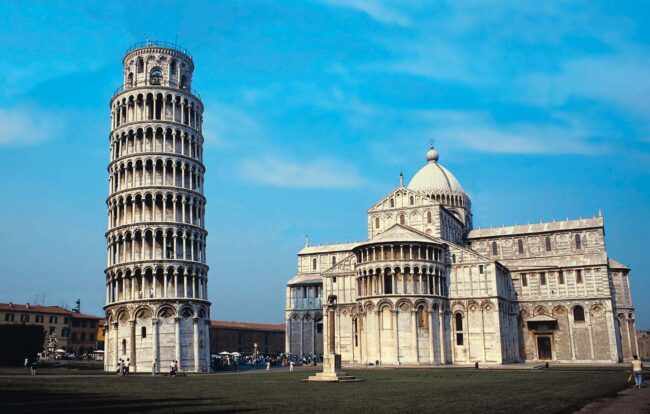 Once recognized for its commercial empire during the middle age, this city is located along the river Arno towards the Northwest of Tuscany. If you are visiting Italy then you must pay your visit to Pisa and must watch the leaning tower. This city is not just about taking good pictures of the beautiful landscape it possesses but it's more than what you think of. Apart from the leaning tower, there is so much to discover. You can visit Italy's most visited square "Campo Dei Miracoli" often called the Field of Miracles. Here you can find Italian renaissance like- Baptistry, Duomo Cathedral, etc. All these are made of white stones. Features sculptures, frescoes, and things from the past. Not only this, but there you can find various bakeries shops selling some delicious baked items. One of the places which will leave you amazed is the River Arno whose beauty is beyond your imagination. Here you can visit the very famous bridge called " Ponte di Mezzo " which is a connecting bridge between the river and Pisa City. You can find greenery, houses, and beautiful buildings on the side of the river banks. Also, on visiting Pisa you will find many cultural events on the streets of Pisa or can enjoy the game of bridge. 
Italian lake district: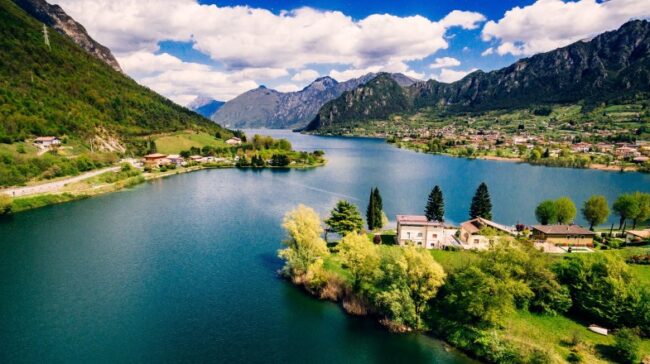 Located on the northern side of Italy Italian lake district welcomes more than thousands of tourists every year. Moving towards the north of the lake you will get to see mountains as the lakes are extended to meet the Alps. Whereas the lakes seem to be flat in the southern part. Visiting the Italian lake district you will get a chance to witness breathtakingly beautiful scenery which is a site of attraction for many people. Moving towards the west you will get Lake Maggiore where you can take pictures of the beautiful Island it has or can look at the lush vegetation it possesses. This 40-mile-long lake meets the Canton of Ticino located in the Southern part of Switzerland. Moving towards the north you can pay your visit to the most beautiful Island known as Isola Bella which is very famous for its royal palace and beautiful gardens. Talking about another beautiful lake- The Como Lake is famous for its royal touch. You can find many royal villas and colorful mansions in the Bellagio (also called the heart of the Italian lake ). Not only this, to know about the history, and culture and to participate in outdoor adventure activities you can go to Italy's largest lake- The Lake Garda. Also, the ancient castles located in Malcesine are worth a visit. Moving towards the south side of the lake you will get a chance to witness resorts having a Roman touch and enjoy the thermal baths offered by them.
Sicily: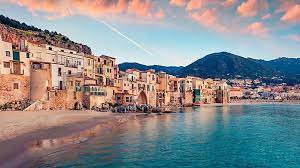 – Another place to discover in Italy is the Island located in the Mediterranean in the southern part of Italy. Sicily is unique in its way and has a different history, culture, and cuisine. Often acting as a crossroads, this place called Palermo is its capital. Known as the largest Island in the Mediterranean, Sicily's largest city Palermo is said to be founded 2,700 years back. Palermo is the best-suited example for Sicily and has a mixed culture. The difference in cultures is that the city has been ruled by different people belonging to Phoenicians, Romans, Arabs, and Normans whose influence can be seen in the form of art, architectural treasures and culinary, etc. Another site of attraction is Sicily's archaeological sites which can easily be found around the Island. The beaches in Sicily are known for their rugged beauty having fertile farmland, mountains, clean and clear water, etc. Not only this, but you can also go to watch Sicily's highest peak and the active volcanoes. 
Siena: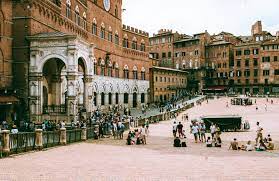 – Siena is known for its historic center, and horse racing tradition (II Palio) which will take you back to the middle ages. Situated upon the three hills in the heart of Tuscany, Siena once used to be the wealthiest city which is easily reflected by its historic center. Paying a visit there you can get closer to its authentic artwork and architectural history. You can also visit Siena's Piazza del Campo which is yet another best place to visit in Europe. You can find various architectural pieces which will leave you amazed. Some of them are- The fountain of Joy, the Palazzo Pubblico and the Mangia Tower, etc. Not only this you can also visit another masterpiece of Siena's- the Duomo which is popular for its romanesque design featuring marble floors, stained glass, sculptures, paintings, and carvings. You can chill and spend quality time at the piazza. Not only this, the local delights like- wine, coffee, pizza, gelato, focaccia, etc are worth trying. The horse race is hosted every year at the Piazza and lots of people come every year to watch it. The tradition of hosting a horse race is 700 years old and representatives of 17 different districts participate in this mega event. 
Final Words
Italy has always been a dream destination for many people living across the world. Many people treat Italy as their dream destination to host their grand wedding. Italy has a lot of things and places to discover than you think.  Whenever you visit any place your main matter of concern is to visit and discover places which are the heart of that country.  For your convenience, I have mentioned some of the top places to go when in Italy. Apart from these places, you can go to other places like- Cinque Terre, Amalfi Coast, Pompeii, Rome, Venice, etc. So next time when you are in Italy, visit these places for sure.
Stay Connect with Get News 360 & You can Write for us Travel