The real estate sector is embracing themed projects, one of them being kid-centric homes or child-centered homes. They have come up as residential pro
The real estate sector is embracing themed projects, one of them being kid-centric homes or child-centered homes. They have come up as residential projects that encourage all-round development.
Why buy Kid-Centric Homes?
As a parent, you might want to invest in a project that gives your child exposure to all the facilities that he or she might not get in school. The fact that facilities like music, dance, liberal arts etc. are there in the premises of the society, the parents make their child participate even more actively. Moreover, it encourages peer learning and active involvement from the kid as well.
Another reason why parents tend to look for a kid-centric home is that all the facilities one might look for are present in the vicinity. The parents rest assured about the safety of their child. Having everything inside a gated society gives them the comfort of minimalist travelling and personal attention to each kid. It is a good fit for the kid of every age group as the property has the environment that suits them in the field of sports and academics.
Who should buy Kid-Centric Home?
As the name suggests, the kid-centric property is suitable for people who have a nuclear family setup. It is an intelligent investment option for people who are planning to start a new family or already have become parents.
With kid-centric activities around the corner, the parent can get even more involved in the kid's development. Hurdles like distance or time constraint are factored off in such a setup. This also increases the involvement of the parent when needed and the caretaker when the members of the family are not available.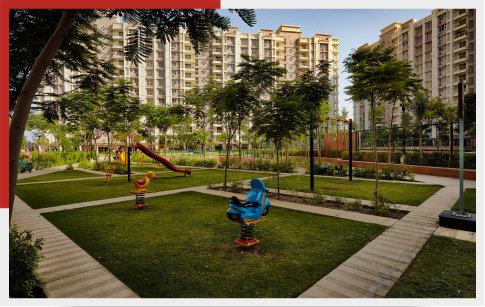 What should the parent look for in Kid-Centric Home?
As kid-centric homes is a new concept, not all properties stand true to the values the property shall have. Here are the five pillars on which kid-centric homes stand.
International standard facilities & amenities- In child-centric homes, the kids learn while they have fun, moreover, it provides them with an atmosphere wherein their safety is never questioned, making sure parents have nothing to be worried about.
Processes that encourage learning & development- The ideal way to develop competitive spirit amongst kids are by scheduling classes of learning.
A Platform to showcase talent: Things like special events, workshops, sessions and excursions are part of the regular program in kid-centric homes. This will help the kids to enhance their confidence and individuality at the same time they will get motivated to do better and develop a habit of healthy competitive spirit.
Maintenance: When talking about safety and security they play a crucial part, ensconced within the safety of a gated community, children have the freedom to play, explore, learn without any restrictions.
Inculcating values: The productive and learning programs that are provided in the kid-centric homes are designed to inculcate values like high spirits, acceptance of winning and losing, peer-ship, confidence, productive thinking, and many more which enhance value system of kids for a bright future.