Are you bored of wearing the same neutral colors and nudes every day? Do you feel like bringing some change in your wardrobe? How many times have you
Are you bored of wearing the same neutral colors and nudes every day? Do you feel like bringing some change in your wardrobe? How many times have you shrugged off the idea of wearing bright and bold colors? We presume it is all the time. We understand it takes some courage to sport bold colors. But, fret not. We are here to guide you throughout on how to wear bold colors in a way that you do not look like a rainbow gone wrong. Trust us, it is easier than you must have thought. It doesn't really take much on your part. Just that bit of confidence which you need in every kind of outfit you wear.
Bold colors play a very important role in exuding confidence, youth, and energy. The energetic vibe it resonates is sure to make you the center of attention (in a good way). People are very much attracted towards persons who exudes such confidence and energy. However, you have to have the mood for it. You can't be a beautiful rainbow on a gloomy day.
Read along to find out the seven best ways you can make your and someone else's day colorful with these awesome beautiful and bold color outfit ideas:
Color Wheel
Since you are going to do a lot of mixing and matching with this look, we have provided you a color wheel which would help you immensely to eke out the perfect color combinations when it comes to bold and bright colors. It is really easy. You only need to team up the colors which sit opposite to each other on the wheel. This way you can stay assured that you will never create a color blunder in your life anymore.
Bold & Dark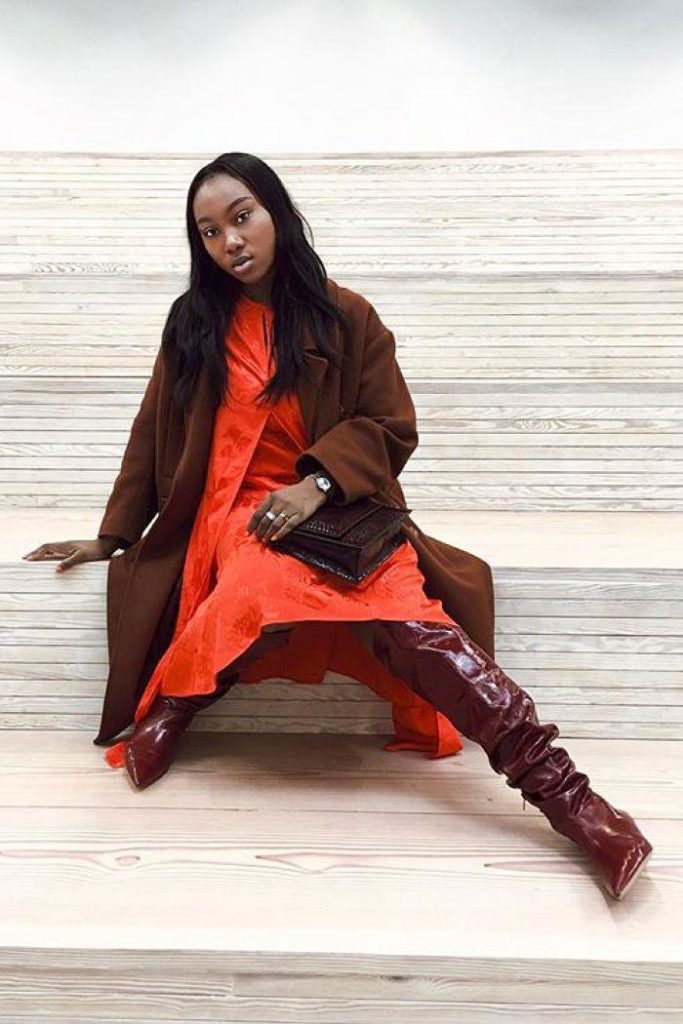 Well, dark does not always mean black. It could be a maroon, purple, brown, and the like. You know the math. A bright color like a canary yellow can go beautifully well with maroon or purple. Just a bit of mix and match when it comes to this combination or any combination for that matter can get you a long way. You can wear a color combination like this to work, or play. It doesn't matter. They are also great for gym apparel. Either way, you would be a splash of color on a gloomy day. The best part about this is you can incorporate such color combinations when you want to go formal and even when you feel like going casual. Simply getting a little creative is all it takes.
Bold & Neutral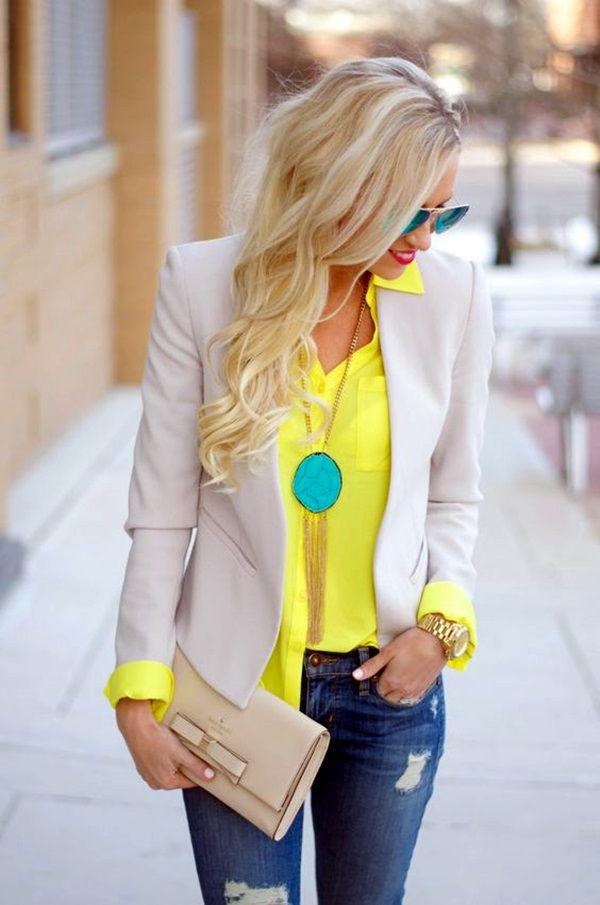 The best way to tame bright colors like yellow or a fiery red is to wear it with a neutral color. Black, being the favorite of ours, is this one. Other neutral colors like white can also be a good fit in here. The idea is to tone down the loudness of these bright colors so that it does not look tacky and over the top. The neutrals do the best in balancing your outfit. Here also mixing and matching plays a part but since we have done the homework for you, you do not need to think much about which color goes with which. These kinds of combination can also be worn for a professional look or simply a casual outfit.
Bold & Denim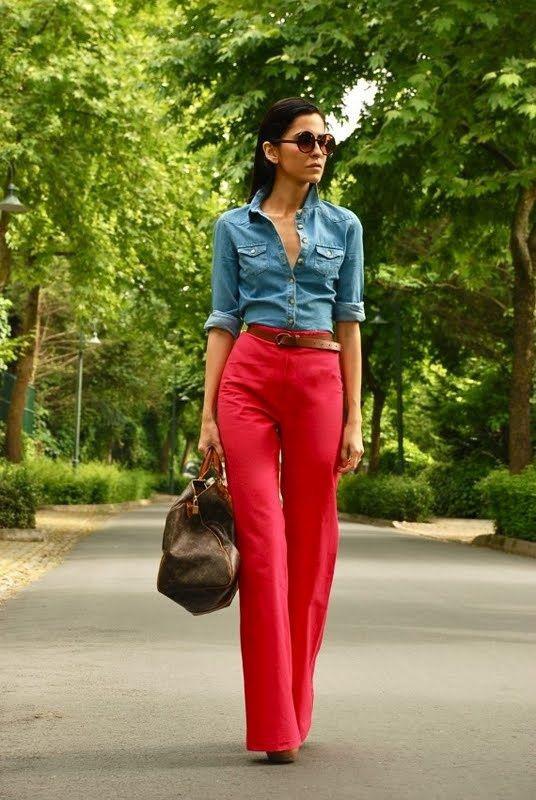 It is a given that denim goes quite well with almost everything. So, there is no surprise that it would be majestic with bold colors as well.  Denim is the way to go if you are looking to offset bright bold colors in your outfit. Team it with some mild colored accessories—all of which match in colors, you know the drill. The denim would also give you a rugged and the bright color combination along with it can make for an extremely stylish look. A denim shirt with a pair of hot pink trousers sounds like a wild idea. But once you sport it, you will know it is for you. Just wear it with confidence and you are sure to turn heads with this brilliant outfit.
One Color Family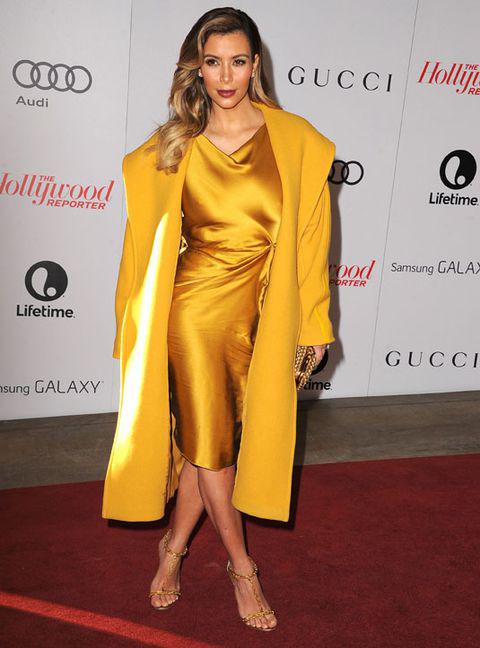 If you are acquainted with the idea of monochrome fashion, you know what we are talking about. Bright and bold colors can be played off really well with their own color family. Think of the different tints and shades of one color and try to stick with it. Trust us, you would look brilliantly chic and gorgeous with such a combination. Besides, the monochromatic fashion is all-time-high on in the fashion street. So, not only will you be creating a fashion statement with this one but also make for a unique look. Bright and bold colors are the best way to go for a unique look. This also makes for amazing party dresses for women. It is not every day that you would see someone wear outfits with such color combinations. It is only because people are not really sure if they would look good in it. Well, you can break barriers and start a fashion revolution right here with this one.
Bold Patterns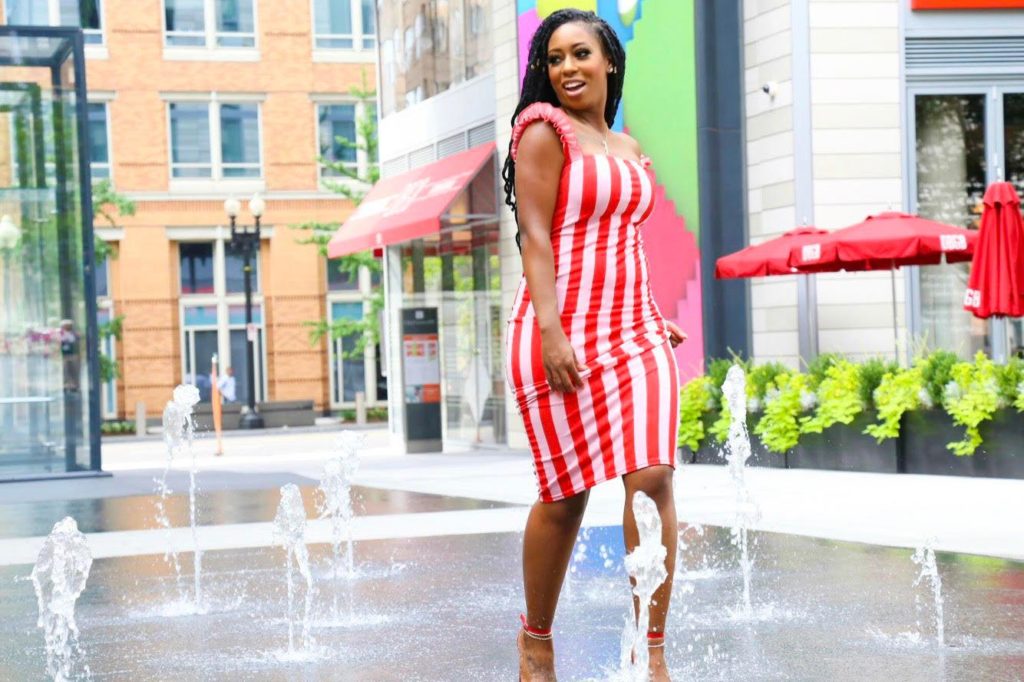 Experimenting with patterns is also a spectacular way to go when it comes to bold colors. You could try color blocking or simply colored patterns. This would make for a very colorful yet scrumptious look. Avoid adding other colored accessories with such an outfit. You should stick to the color palette when choosing your accessories. There is no rule as to how the patterns should be. It could be geometric, Aztec, or floral. As long as you know how to play the color palette, you are good to go. And, there is nothing much really to do when it comes to the color combination. Simply keep in mind that you do not introduce any new colors in your outfit as much as your accessories are concerned. You wouldn't want to look like a blob of spit out skittles.
Bold Accessories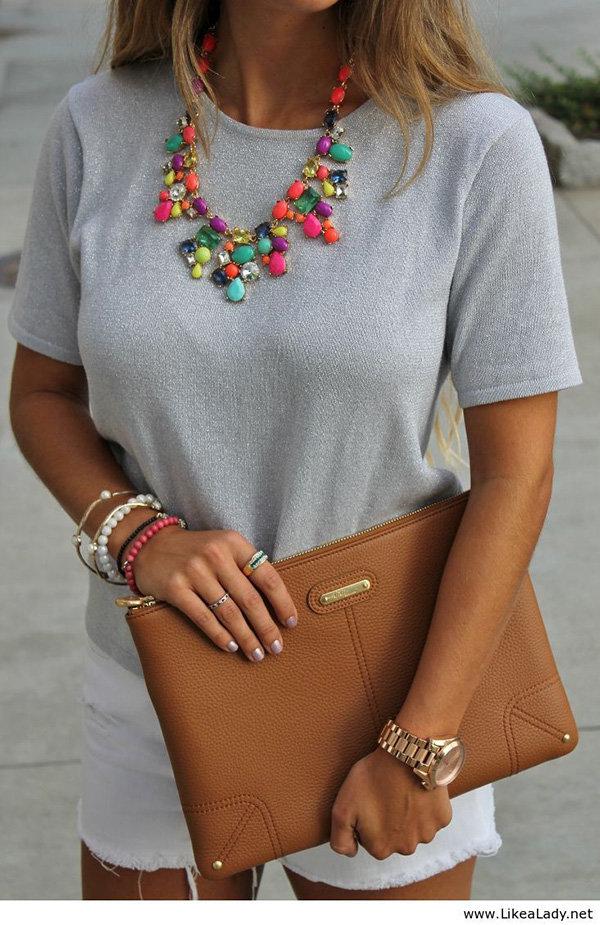 Since we were already talking about accessories, why not incorporate them in the bold color family as well? This again plays well with the neutral-bold combination. Bold accessories are the perfect choice when it comes to neutral outfits. They are best when you want to show off your latest bold neck-piece or a bright colored belt. Either way, it is the best way to show off one particular feature of your outfit. This is also a great way to start your journey to adding bold colors in your outfit if you are not that confident about going all in at first. You can use this look to test the waters.
There you have it. The best possible ways to sport bold and beautiful colors. Who would have thought it would be this easy? Well, we have laid it all out for you so you have the least difficulty in following these tips to wear an outfit which has the best color combinations. So, next time you wake up to a gloomy day, you have all the more reason to come back to these tips and wear your sassiest bold outfit. We know you will love it!
Author Bio:
Harold Camaya
She is a blogger who loves to write in different verticals. She co-authored Supercharge Organic Traffic: A popular course focusing on Organic Traffic for Ecommerce.. Her hobbies are traveling and reading.
 if you are running a blog so You can write for us for a fashion blog.