For safe and comfortable sea journeys, it is recommended that one has all the essential marine electronics that are required. These may include device
For safe and comfortable sea journeys, it is recommended that one has all the essential marine electronics that are required. These may include devices for power, navigation, communication, safety, and entertainment purpose.
In the case of navigation, there are many useful marine electronics which help in ensuring protected trips across the sea. Some of these are extremely important for a safe journey. Autopilot systems and GPS chartplotter are must-haves when it comes sailing on the water with confidence. Whereas, radars and satellite weather systems are also essential. Other than these, marine speakers and digital TV are also required for hassle-free entertainment.
5 Useful Marine Electronics For You:
GPS
Global Positioning System or a GPS is a space-based global navigation satellite system which transmits information to GPS receivers regardless of marine conditions and weather. GPS receivers collect time and location information at all times. For marine use, GPS is used along with other marine electronics for navigation and direction on the sea. You will find an extensive collection of GPS accompanied by a fish finder, radar, or other equipment for added capabilities on the water,
Chartplotter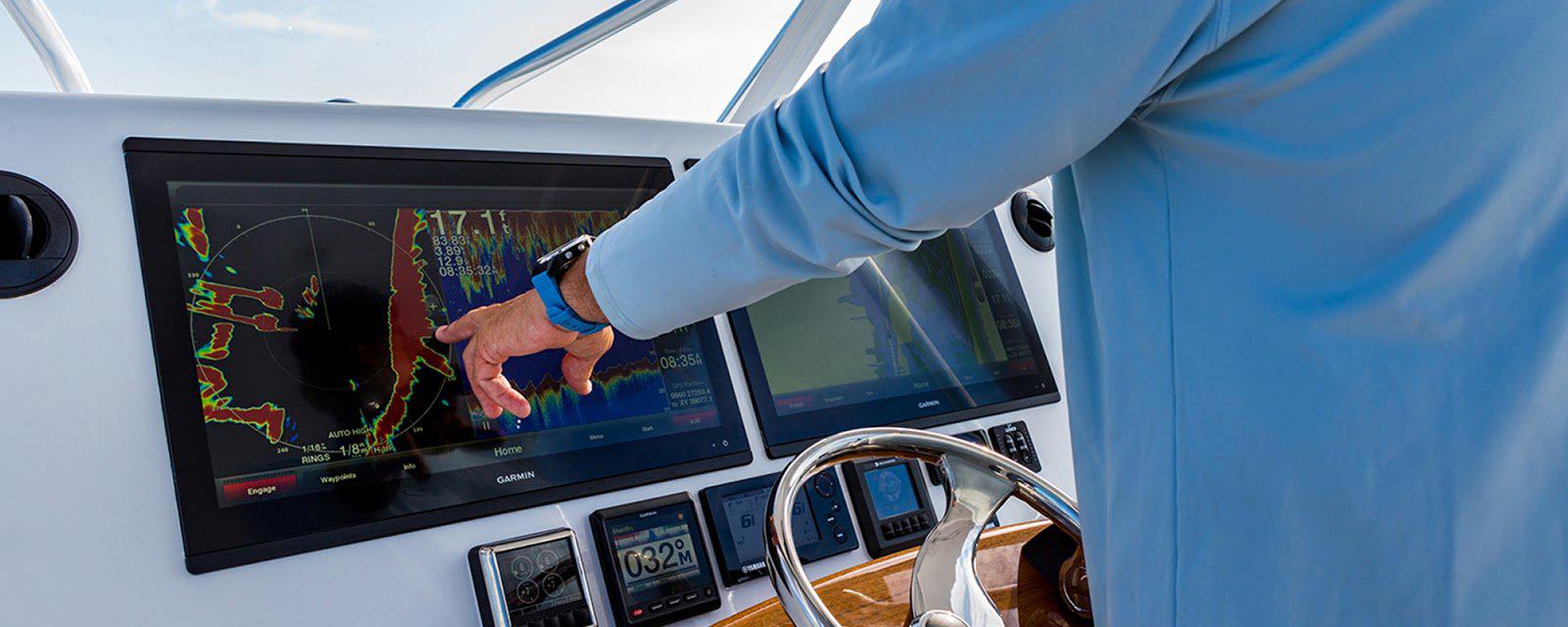 It is another must-have marine equipment used with GPS. a chartplotter aids in integrating the information from the GPS and plotting it on the Electronic Navigational Chart (ENC). these devices can also work in tandem with additional navigation electronics like AIS and Radar systems. A chartplotter is likewise used for displaying important data like the direction of the ship, location, speed, MMSI number, and more.
Autopilot
An autopilot helps in running vehicles, ships, boats, and aircraft on an automatic pilot system without any manual help needed. In marine environments, small boats and yachts may require autopilots, especially on straight routes to help sailors and shipmen sit back and relax for a while. Thanks to the advent of marine technology, now you can find multiple options of marine autopilots with advanced features that will make your experience easy and safe.
Satellite Weather System
There are satellite-based weather systems available both online and offline which provide downlinking of weather information using satellite weather receiving systems. These are helpful in sea voyages and sea travel to avoid facing bad weather conditions mid-journey.
AIS
It is another vital marine system for navigation purpose. It translates information about your boat and its whereabouts to other boats and there location specifications to your boat.
Types of Marine Electronics – Based on Purpose
To put it plainly, the comfort, security, and performance of vessels rely on the systems installed in various divisions of vessels.
Marine electronic systems are partitioned into four fundamental classes including:
Power

Navigation

Entertainment

and Communication
Let's discuss all of them one by one :
Power
Power is the real source of intensity in vessels. Undersized electrical systems, long charging occasions, dead batteries, and so on, results in issues and such issues can be fixed by taking help of watercraft masters effectively. They analyze the issue and furthermore support customers by offering installation services of required electronics.
Real power systems found in watercrafts incorporate battery screens, alternators and controllers, AC and DC boards, generators, battery banks, and significantly more. Power electronic systems decide control necessities in vessels, offer power storage limit, give fitting charging ability to make sailing sheltered and agreeable.
Communication
Another basic class of marine electronic system is communication. Marine frameworks which lie under this class are intended to make communication successful on the run. Having something like a VHF Marine Radio is the basic necessity for the security of watercrafts. Satellite phones will be found to let one remain associated with the Internet by means of satellite adrift. Cell systems and Wi-Fi are two other valuable communication systems of vessels.
Navigation
Whatever be the kind of sailing you do, it is imperative to have sound and proficient navigation system onboard. The systems found in the navigation category incorporate multifunction display, radars, chartplotters, satellite weather system, fishfinders, windlasses, and considerably more.
An AIS – Automated Identity System is a standout amongst the most basic devices for marine navigation. It helps one to get the essential data like the definite position of the watercraft, longitude, scope, time stamp, course over ground, the rate of turn, and so forth. In this way, for better establishment of navigational marine systems, one can take help of experts of vessel authorities.
Entertainment
To make entertainment possible adrift, watercrafts likewise accompany diverse stimulation systems. The amusement classification of marine electronic systems includes systems like satellite TV and Radio to stay mindful of what's happening in various pieces of the world. Flat screen TVs and marine stereos or speakers are other sources of entertainment that you'll discover in watercrafts.
Subsequently, all four factors are four unique kinds of marine electronic systems. What's more, any issue found in such systems can be effectively fixed with the assistance of expert boat outfitters and marine repair stores.
All in all, the marine world is full of surprises and risks. It's always better to stay prepared and geared up for whatever might fall in your course. Whether it's about your safety, entertainment, knowledge, or navigation – you need to look after everything when sailing on the water.
Fortunately, you will find a wide number of marine stores dealing in different electronics and products that will suffice your needs. Also, you can filter the products as per your budget and specific needs. The internet is full of online stores and RV dealers that offer everything from radars and chartplotters to AIS, fishfinders, autopilots, and more. All you need to do is search for a dealer with positive reviews, wide collection of marine electronics products, and easy payment options.
Once you have installed the required systems on your vessel, you can be sure to experience a hassle-free and safe ride on the water.