New Zealand is a country, which people can visit for tourism and adventures. There are many places in the country, which are meant for tourism and pe
New Zealand is a country, which people can visit for tourism and adventures. There are many places in the country, which are meant for tourism and people can visit them and enjoy. People can visit parks, peninsulas, glaciers, beaches and many other things. Here are the details of some of the popular places, which tourists can visit.
If you're planning trips for party and music then you should check out tomorrowland. There is complete guide available how to get tomorrowland tickets.
Coromandel Peninsula
This peninsula has many beaches with white and golden sand. Tourists can also visit the forests nearby. People should first go to the Thames, which is a small city and has gold mines. Another great thing is the Hot Water beach where people have the option to dig their own pool under the sands.
Abel Tasman National Park
This park is located on South Island. People can enter this park on foot through the boat, or through a small plane. People can visit mountain terrains, wekas, oystercatchers, wood pigeons, and other birds.
Sky Tower
The Sky Tower is located in the largest city of New Zealand that is Auckland. Its height is 328 meters and is a tallest free structure. There is a revolving restaurant named Orbit where people can enjoy various types of cuisines.
Napier Art Deco
Napier is a small city located on the east coast of the North Island. The city is popular for its deco architecture. The city faced an earthquake in 1931, which leveled the land of the city. The city was rebuilt after the earthquake and so its architecture is different from other cities of the world. The city is visited by many people in the month of February due to Art Deco Weekend. In this event, people can see vintage cars and soapbox derby.
Kaikoura
This is a small town located on South Island. This is one of the best places for those who love seafood. People can see many animals here like a sperm whale, albatross, dolphins, etc. People can also see crayfish, blue cods, mussels, and many more sea animals.
Franz Josef Glacier
This glacier is easily accessible and is located in the Southwest. People can walk here on foot or can take a helicopter to view it from the top. It is one of the major tourist places, which people from all over the world come to visit. Fox Glacier is also present nearby this glacier and is visited by many tourists.
Wai-O-Tapu
This park is located outside Rotorua. People can find geothermal activities here. Along with this, volcanic landscapes can also be seen. There is a geyser named Lady Knox Geyser, which erupts daily into the air. People can also enjoy trekking and biking.
Tongariro Alpine Crossing
Tongariro National Park is located in the center of the North Island. Tongariro Alpine Crossing is located here, which covers Mount Tongariro. This crossing also passes through Mount Ngauruhoe. Many movies have been shot here because of its scenic beauty. Other attractions here are Blue and Emerald Lakes, which belongs to the local Maori people. These lakes are of religious importance so the tourists must respect them.
Bay of Islands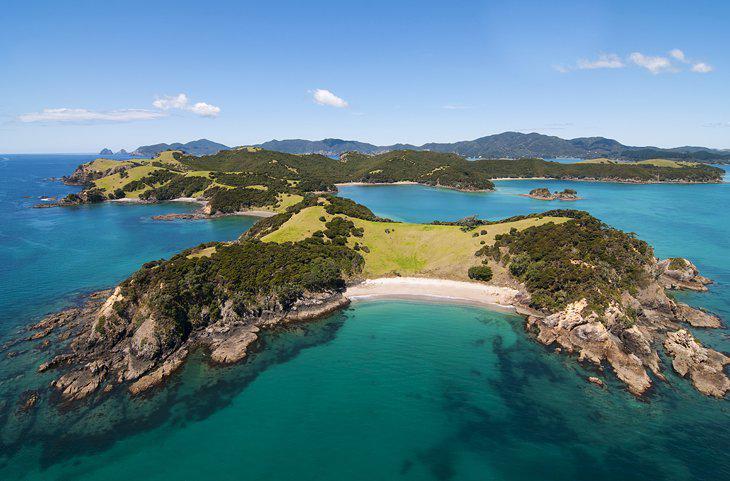 Many people from New Zealand and abroad come to visit this group of islands. There are 144 islands in this group. Along with this, people can also visit bays and sandy beaches. People will get familiar with marine life as they can see whales, dolphins, penguins, and many other marine animals. People can also enjoy sailing yachts and international sport fishermen.
Milford Sound
This is one of the most popular tourist attractions in the country. This tourist place is located in the North direction of the country and people can come here through Fiordland National Park. People can see coastal sceneries and dramatic peaks. The color of the water is dark blue. People can enjoy rainfall here, which enhances the beauty of the place. The rainfall has developed many waterfalls, which fall through the cliffs.
Final Verdict
These are some of the few and most popular places in New Zealand, which tourists can visit. The country is full of parks and gardens and people can come to these parks for a picnic. The food in the country is delicious and people can enjoy the food of various cuisines. There are many budgets and luxurious hotels where people can reside and enjoy their tour.